When you first decided to become an educator, you took courses, expanded your knowledge, and started building your toolbox of good instructional practices. You learned how to teach and deliver content in a meaningful way to your students. The excitement increased while you developed your own ideas for bringing creativity and a love of learning into the classroom.
Whether you are new to the profession or a veteran teacher, it is likely you vividly remember this experience and your drive to positively impact students in your own unique way.
The truth is that the dynamics of a classroom are constantly changing. Not only do we all learn and grow in our instructional approach, but we also see how student interactions in schools have changed and shifted over time. A student's social, emotional, and behavioral needs are critical not only to their school success but to their long-term development and ability to manage future relationships and responsibilities. As a teacher, YOU greatly impact your student's ability to balance work, handle challenges, and interact with other people as they grow and eventually blaze their own trails. Without well-developed social and behavior skills, your students may struggle with future employment, relationships, and other components of a healthy life. Teaching these skills is crucial.

When you think of it like this, it is a lot to put on the shoulders of teachers. The excitement you experienced when first entering the classroom may fade when you realize that your well-crafted toolbox might not have everything you need to support your student's academic and behavior needs successfully. The good news is that you can teach behavior just like you teach math, reading, and writing.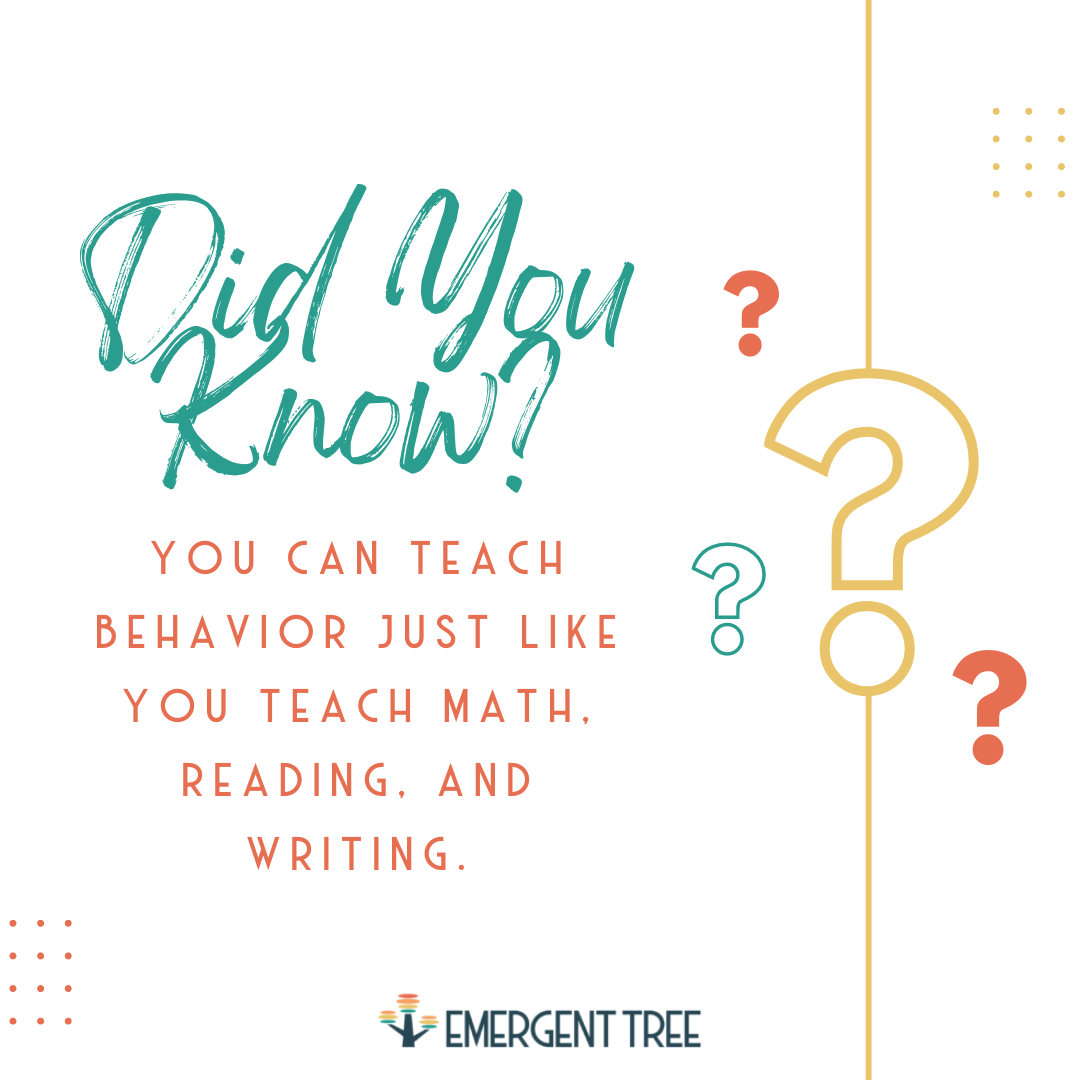 We know we can't shield our students (and ourselves) from stress, conflict, disappointment, and anger. These feelings are part of being human. But we can help students learn to control how they respond and react to difficulties by directly teaching skills and strategies within a system of classroom management. Teachers can reduce the amount of time and focus spent on discipline and managing behavior by using their incredible skills to directly teach behavior and help guide students toward better ways of interacting with others.
This shift to a more proactive approach reduces time spent on behavior, decreases burnout, and boosts teacher confidence. Let's be honest. You want to teach. You want to invest in your students for long-term success and growth. You want to make an impact. But if you are constantly redirecting behavior, you become exhausted and lose some of your instructional magic because lessons are interrupted, and your patience thins. So how can you help mitigate this? The first step is to flip the focus by teaching and acknowledging when students follow the core values of your classroom. Developing these core values allows you to teach students what you want them to do rather than what you don't want them to do. We call those replacement behaviors, and it's a way to shift your focus to teaching positive behavior rather than relying solely on redirecting after the behavior has already occurred. This is called the instructional approach to behavior (check out more here).
Many of you are familiar with a multi-tiered approach to meeting students' academic needs. The same is true with behavior. There are systems, structures, tools, and support within each tier that allows you to shift your approach and support student behavior in a powerful way. We have some different programs specific to each tier if you'd like to take a look!
Looking for some key ideas and words of encouragement?
Build Skills to Support the Relationship
You probably didn't get to where you are today without having a passion for connecting with students. You probably also had your own positive mentors or people you relied on for support. This instinct to build relationships with students to enhance your ability to teach is vital. But know that relationships alone will not "fix" everything. Students still need to develop skills and have classroom structures in place. Develop strong relationships and use them to teach, model, and encourage rather than having the relationship be the primary focus. Once you have that relationship, you are better able to teach from a place of trust and support.
Acknowledgment is Key
While we don't have a magic wand for correcting behavior, we do have lots of research telling us that acknowledging desired behavior leads to greater change than correcting undesired behavior. Small shifts in practices can generate impactful and positive outcomes. Keeping the acknowledgment ratio in mind can have powerful results. Spending more time and attention acknowledging the behaviors you want to see rather than correcting challenging behavior allows you to put your energy into proactive and preventative approaches, which almost always results in positive change. Each acknowledgment serves as a small bit of feedback to the students you notice as well as all the students around. Your impact is exponential.
Understand Your Student's Motivation
We often think, "why should I have to acknowledge students for doing the right thing–they should just do it intrinsically." The truth is we are all motivated in some ways by outside forces–social recognition, a paycheck, time with friends and family, etc. and students are no different. Our students are still learning and growing and need feedback and guidance to support new skills.
Focus on the Big Picture
Even with good relationships, a quality system, and lots of acknowledgment, there will be hard days. If we're honest, we recognize that building skills, overcoming old habits, and understanding motivation takes a lot out of you. Don't expect behavior to be fixed quickly. Don't get frustrated when a process doesn't work or is challenging. Be intentional with your words and your work. Take your time. Step back and look at the big picture. See the positive changes, adjust when needed, and recognize the progress you have made. Teaching is a journey, and even small steps are important.
You Aren't Alone
Finally, find your people. Use your support system. Many of your colleagues walk in your shoes, understand teaching challenges, and are available for guidance, support, or a listening ear.
And remember, you and your team aren't alone, either. Emergent Tree's resources and systems are available to support you, help you build skills, and enable you to thrive as an educator. Check out some of the courses and tools you can jump into right now, and feel free to reach out to us if we can support your team with additional coaching or ideas.

Laurel was a special education teacher for high school and middle school in the Austin area for almost 25 years before shifting to a support role for teachers and administrators. Laurel served as an IEP facilitator and district mediator to help address challenging situations and build community and rapport. Her most recent role before joining ETE was building and supporting MTSS systems at the campus and district level in Austin ISD. Laurel has always enjoyed working with students and supporting teachers with new skills and knowledge.